Protect the people and places that power your organization. With more and more employees returning to the office it is more important than ever to protect the people and places that power your organization. CloudBadging Location Management can educate employees on your health and safety protocols & policies & conduct pandemic screenings at your point of entry. You can even configure your kiosk for touchless mode, allowing your visitors to scan in via their own mobile device. All while keeping robust, private & compliant record keeping that can be used for contact tracing & more.
All in One Solution
CloudBadging Location Management provides an all in one solution for managing your locations visitor & employee screening. Each new location receives a physical countertop kiosk as well as a subscription to CloudBadging Location Management. Everything you need to manage the screening and entrance of your employees and visitors included.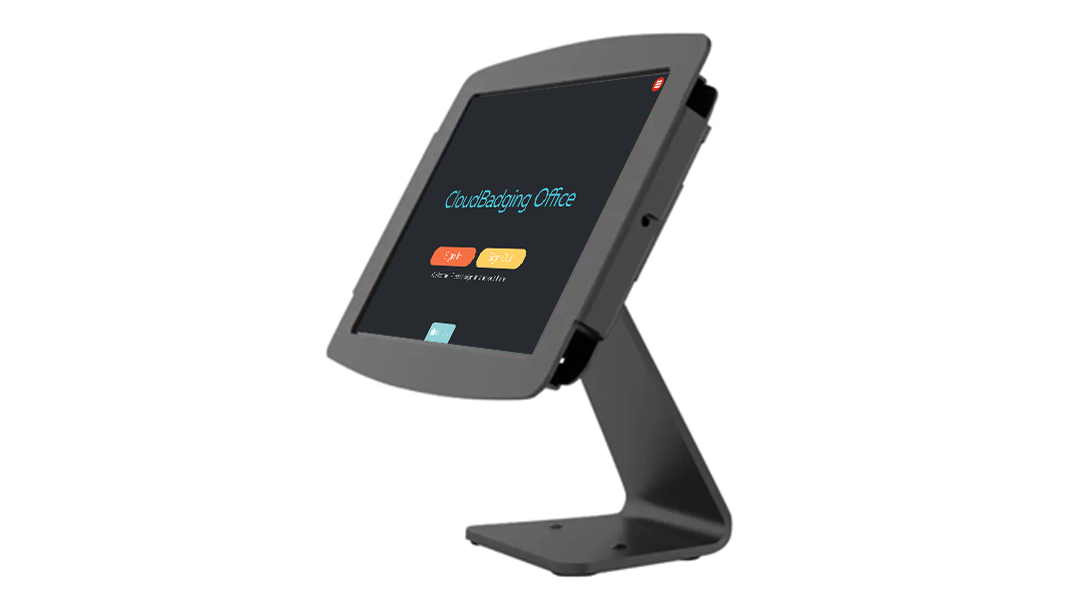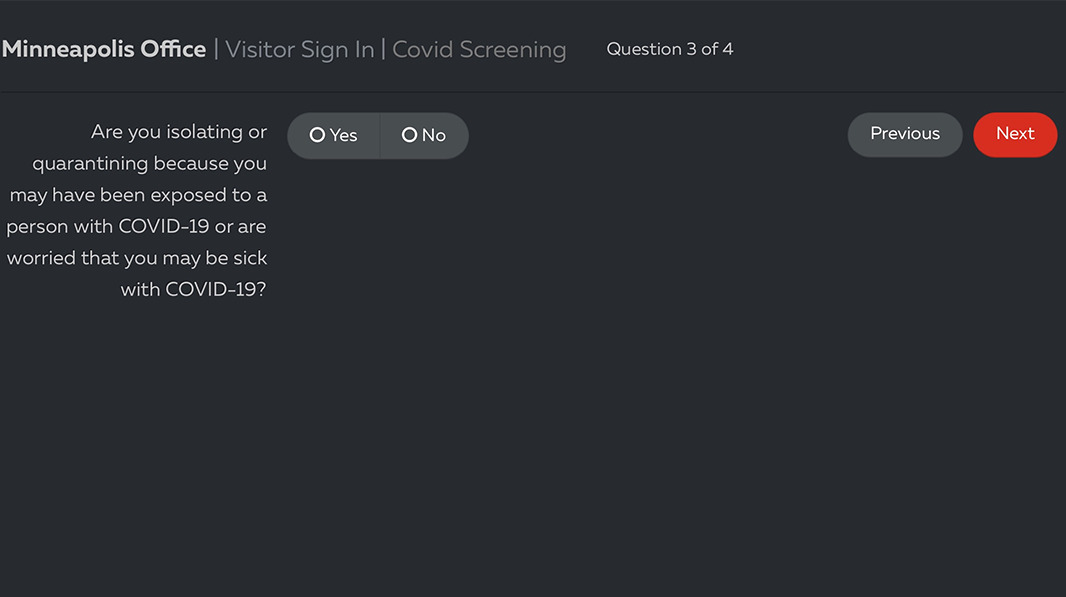 Safety Screening - Privately
"In the past 14 days, have you received a positive Covid-19 test?" Now more than ever it is important to screen employees and visitors who are entering your building. With CloudBadging Location Management, you can ask any custom screening questions that your policies require when a person attempts to enter your facility. CloudBadging Location Management allows you to ditch the pen and clipboard and ask the necessary questions in a way that does not require employees & visitors to share health information where anyone can read it.
Educate & Communicate
Times have changed and so have company policies for entering your premises. Are masks required? When and where must employees wear them? Educate employees or visitors on procedures and requirements when they return to the building with CloudBadging Location Managements training modules. You can require employees to read or acknowledge your training or policies before entering the building and keep track of which employees have or have not completed their training.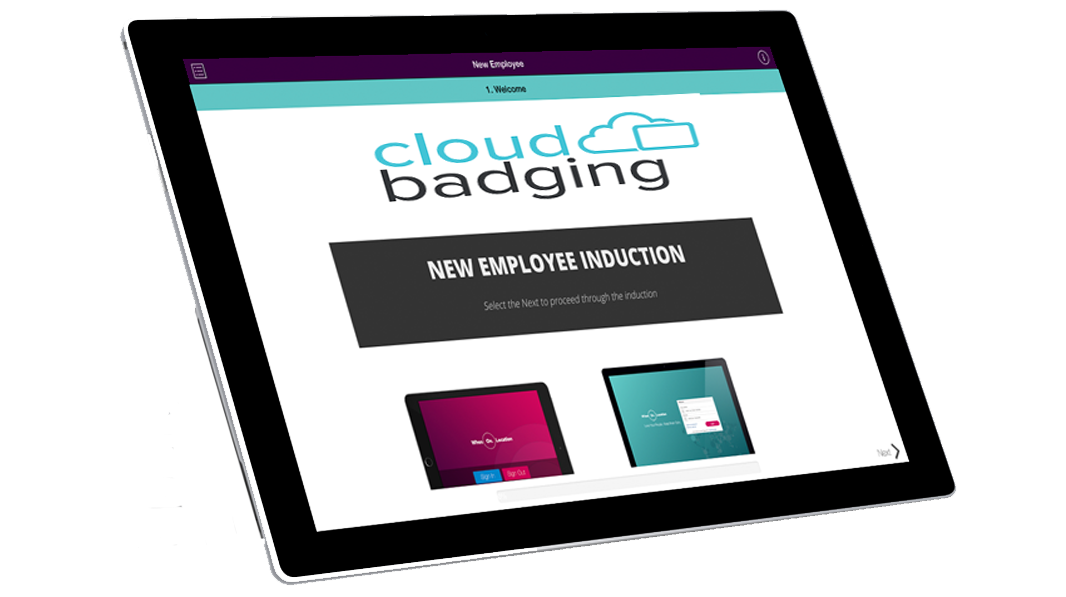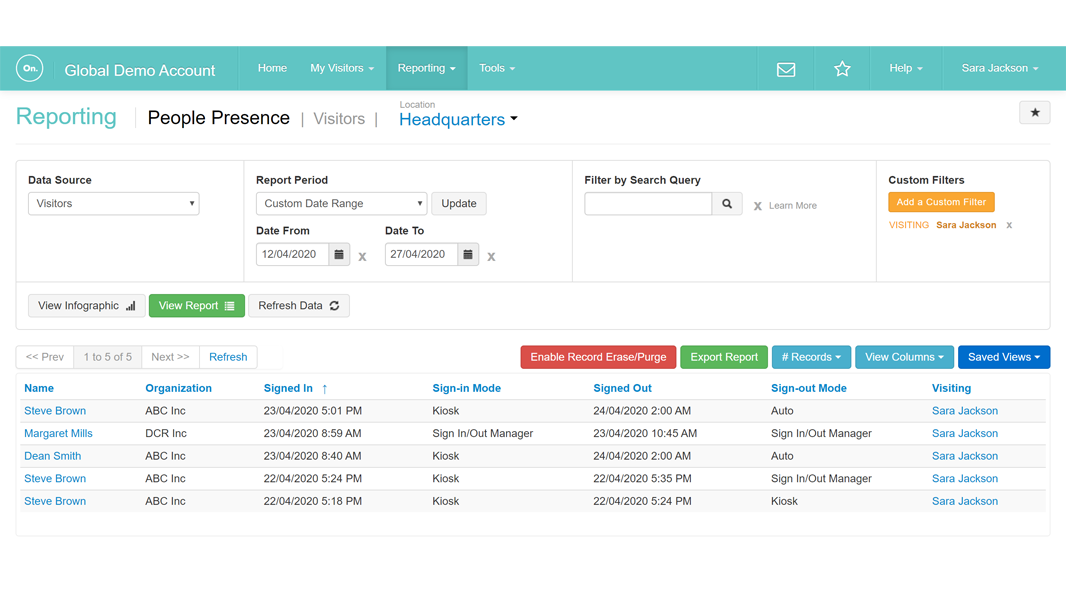 Compliance & Tracking
CloudBadging Location Management makes it easy to track necessary information for ensuring the safety of your building in a compliant manner. CloudBadging Location Management gives you visibility of all employees and visitors who have checked in & out of your location giving you visibility into who was present and with whom. Should an employee or visitor give notice of a positive COVID-19 test, CloudBadging Location Management will allow you to quickly determine which other team members were on site in the previous days. You can easily run reports for specific date periods including custom date ranges.
Touchless Sign-In
Your employees and visitors can now check-in and out, answer screening questions, and more without having to touch the sign in kiosk. When configured for touchless sign in, your kiosk will display a unique QR code. When scanned by a smartphone the QR code will allow the user to sign-in and answer any screening questions on their own mobile device without the need to physically interact with the kiosk. If you use temperature verification as part of your screening process, you may benefit from using our touch free temperature screening kiosk. The temperature screening kiosk is a standalone device that will display a user
More Information
Additional Info

Screening and Entry Kiosk
Visitor & Employee Screening Software
Touchless Check-In and Check-Out
Optional Visitor Badge Printing
Contractor and Employee Management

MRI OnLocation Template Activate
No