If your organization is in the market for a high-performance, high-resolution ID card printer and you've decided to move forward with the Datacard brand, you're in the right place./entrust-datacard-printers.html
So many options Choosing a card printer can be a lot to think about if you're new to ID card printing. Luckily, Datacard carries a full variety of ID card printers to accommodate virtually any printing program – from entry-level models to full-featured, enterprise-level printers with lamination, additional security options, and more. Comparing the features Because an ID card printer is an investment, it's critical that you choose a model that can provide you with the features you need to make your card program a success. Here are some of the most common features our customers appreciate, including:
Warranty coverage - Take the necessary precautions outlined in the printer's warranty to keep your printer running smoothly and efficiently.
Loaner coverage - Prevent expensive printing program downtime. If your printer ever stops operating, you'll keep your card program fully operational with loaner printer coverage.
Unsurpassed print speeds - Choose between high-resolution 300 x 1200 dpi printing or best-in-class speeds that create up to 165 full-color, dual-sided ID cards or 1,000 monochrome cards an hour.
Card volume - For small, on-demand printing, a low-volume printer will most likely be the right choice. For high-volume printing, you'll need a printer and consumable that can manage higher output.
Encoding - Securely program cards with confidential personalized data that can be used for more secure ID applications.
Advanced security options - To secure the printer's work area, an optional Kensington® cable lock is available.
It's easy to use price as the primary determining factor for your printer purchase. But in reality, you could be doing yourself – and your company – a disservice.
The best way to get started in your ID card printer search is to first identify the printing features you want for your card issuance program. That's why we created this convenient, easy-to-scan comparison chart to highlight the differences between Datacard printer models:

*Price increase up to 10% on ribbons for the Datacard SD Series printers. Trade-in applies to Datacard SD Series printers.
Big savings for a short time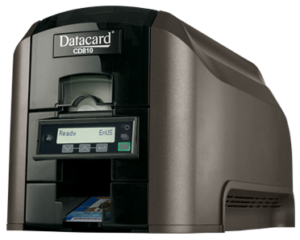 We recently partnered with Datacard to offer huge rebates on upgrades to the Datacard CD810 ID card printer – for a limited time only. There's never been a more ideal time to take advantage of substantial savings on this feature-rich, upgradeable printer than right now!
Update on Datacard SD Series ribbons
Do you currently use a Datacard SD Series printer (e.g., SD160, SD260, SD360, or SD460) or SD Series printer ribbons? If you do, please note that Datacard has informed us that the printer ribbons for this line of direct-to-card printers are nearing an "end-of-life" status. This means the SD Series ribbons will increase as much as 10% in price this year, making an upgrade the smart choice.
Perfect timing for an upgrade!
When you trade in your current ID card printer for the best-selling Datacard CD810, you'll not only save hundreds of dollars from the manufacturer's retail price. You'll also get an instant rebate to increase the savings even more!
If you currently use an SD direct-to-card ID printer or SD Series printer ribbons, now might be the best time to upgrade to the Datacard CD810 Printer, engineered exclusively for ID Wholesaler.
Learn more about the innovative, high-throughput CD810 card printer >>
Even more savings
With an upgrade to the CD810, we guarantee this printer's ribbons will not increase in price for the entire three-year warranty period.
Rely on our expertise
Depend on an industry leader like ID Wholesaler to provide you with the important details you need to know to make an educated decision. We take great pride in listening to your needs and working closely with you to find the right printer to achieve your printing goals.
Let us help make your job easier. For more information on this special limited time Datacard CD810 printer offer, call a knowledgeable ID Professional today at (800) 321-4405. You and your bottom line will be glad you did!