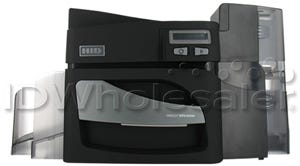 Fargo HID recently released a new, enhanced family of direct-to-card printers, including the Fargo DTC4500e. The Fargo DTC4500e offers security, flexibility, and versatility for businesses with low to high security needs - and is backed by a 3-year warranty! It features a number of the same features as its predecessor, the Fargo DTC4500, plus a number of enhancements.
Fargo DTC4500e Key Features
Fast print speeds: You work fast - and the Fargo DTC4500e can keep up with you! It prints up to 225 full color cards per hour - 50% faster than its predecessor.
Ribbon options: Choose either the EZ ribbons that offer a disposable easy-to-use cartridge that makes loading and replacing your ribbon cartridge a snap, or the ECO ribbon, which has a reusable cartridge, making it eco-friendly and economical.
Enhanced security: Designed to migrate from lower to higher security levels, the DTC4500e offers built-in printer password protection and optional fluorescent ribbons for Ultra-Violet or UV printing. It also offers AES-256 data decryption for data protection. Optional locking card hoppers are also available to keep your printed and unprinted cards secure.
Standard Ethernet connectivity with optional wi-fi: Ethernet comes standard in the DTC4500e, plus optional wi-fi for mobile printing is available.
Optional upgrades: The DTC4500e can be customized with dual-sided printing, Wi-Fi connectivity, locking card hoppers, same-side input/output hopper, dual-input hopper, and encoding, as well as extended warranty and training options.
To learn more, check out the
Fargo DTC4500e product page
or call an ID Professional at (800) 321-4405.