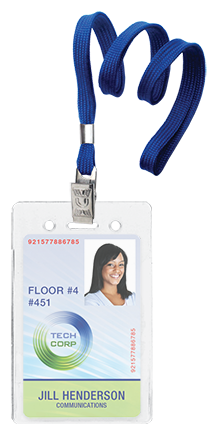 Here at ID Wholesaler, we've seen this happen a number of times over the years: an employee is tasked with the project of creating ID badges for their company. They spend time researching and working with their dedicated Account Manager here at ID Wholesaler, they get the necessary equipment, print their badges, and happily exclaim, "Whew! Glad that project's done!"
In reality, the project is only just starting! The only way your employee ID badge policy will be successful is if you have a clear and well-documented policy for your ID badges.
If you're new to creating an ID badge policy, first consider building access control best practices and why ID badges are important to both employees and the organization as a whole. Why do we need to make sure that ID badges are required? Once you have established this, make sure the rest of the decisions are made with this key point in mind.
Second, you'll want to be sure you have a set policy when it comes to how ID badges will be created.
Who's the person who will be the using the ID card printer?
What if that person is out of the office?
Who is the person's back-up?
Who's responsible for requesting a new card to be created for a new employee?
How do they go about processing that request?
Who is required to sign off on these types of requests?
How is it documented?
How will the ID be administered to the employee once it's printed?
What will the employee use for identification in the meantime?
How is the distribution of new IDs documented?
Who's in charge of updating this documentation?
What's the process if an ID is lost or needs to be reprinted?
Is there a fee for replacement? If so, how much?
If the ID is also used for door access and physical security, what's the process to deactivate the lost card to ensure no unauthorized usage?
Are there any additional departments that this needs to be communicated to?
How is an ID card collected should an employee be terminated or leave the company?
Third, you'll want to consider the expectations on how the employee will display their photo ID. If you have a badge program that doesn't require the ID card to be worn while an employee is at work, does that contradict the original reason for creating the badge in the first place? How should the ID badge be worn or attached to the employee?
Be sure to consider all positions and duties throughout the entire organization to ensure the highest level of safety for your employees.
If the method of attachment or display is lost or broken, who should the employee contact?
Do you want the accessory to be customized?
In your company colors?
With your company name, logo, or tagline?
Are employees responsible for purchasing their own badge accessory or does the company provide it?
How does the employee get a new accessory if theirs breaks?
What are the consequences if the employee doesn't follow this policy or forgets their ID badge?
What does an employee do if they see an individual without an ID badge?
Fourth, don't forget about visitors! Most organizations have one or more of the following: contract, freelance, or temporary employees. Knowing whether they are in your building or facility is just as important as knowing this information about permanent employees. If you require your trusted employees to be identified, what about the unknown visitors to your building?
Having a way to identify all individuals in your facility will help ensure the safety of your employees and visitors. Finally, you need to consider how the above processes, procedures, and policies will be communicated to your team. Many companies will have this communicated in their employee handbook.
Other companies print these cardholder expectations clearly on the back of the ID badge. Considering this important information will help ensure your badge program implementation is a success! So whether you need assistance or guidance with an ID card printer or photo ID system or simply need lanyards and badge holders, you can trust ID Wholesaler to deliver. For more questions about starting an ID card policy at your organization, call an ID Professional today at (855) 956-1282.