Creating a secure ID card design used for badge card issuance is one effective approach to protect people in the workplace and guard the building from security threats. These days, ensuring the well-being of their people has become a top priority for organizations, as staff and students want peace of mind that they will be safe while on the premises. Most security objectives focus on a few core areas:
Maintain people security by avoiding physical threats
Reduce sanitary and contamination risks by avoiding unnecessary contact
Protect sensitive data and assets from theft and data breech vulnerability
A card-based security solution is affordable, flexible, and relatively fast to put into practice for organizations of any size. When using secure ID card design features, a photo identity program should be able to control staff and visitor access by restricting or granting access to designated areas. But these aren't your name badges from the past—advancements in card printing technology and ID card printing software have opened doors to entirely new levels of secure identity verification. Even more important, these features are not easy to replicate for fraudulent use.
We've identified the top 5 steps to creating a secure ID card design. Each step should be evaluated for consideration, but the customized mix of features will vary depending on organization needs.
Five Steps to Create a Secure ID Card Design
1. Graphic customization
As the most basic ID card component, graphics and imagery are the first step to designing an ID card. Consider adding these elements for better card-based security:
Color photo for immediate identification
Unique graphical elements such as an organization logo, emblem, and brand colors
Personal cardholder information imported from databases and printed on the card
Barcodes or QR-codes for simple, contactless access control
2. Data encoding
Encoding technologies enable an ID card to store data on a magnetic stripe or a contact/contactless smart chip. Smart cards contain tamper resistant information—such as an ID number, biometrics, additional photos, and more—for an added layer of security not available to barcode or magnetic stripe solutions.
3. Contactless smart cards (RFID)
A contactless chip embedded in a card enables encoded information to be read from a distance determined by the technology used. Information is validated quickly, and hygiene is preserved as compared to fingerprint systems that require direct physical contact with the reader device.
4. Ancillary security solutions with advanced printing technology
Standard ID card machines print via dye sublimation—a direct-to-card printing method that applies the design right onto the plastic card surface. It is the most affordable and common choice, but direct-to-card printers are limited to producing basic elements unless you choose pre-printed cards that already include enhancements. With a retransfer printer, high-level, tamper-resistant security features are possible. That's because thermal transfer technology applies the imprint onto a layer of film that is then heat sealed to the card surface. Imprinting on film expands the printing capabilities of retransfer printers, producing very crisp, high resolution card designs. Here are a few features available when using retransfer printers: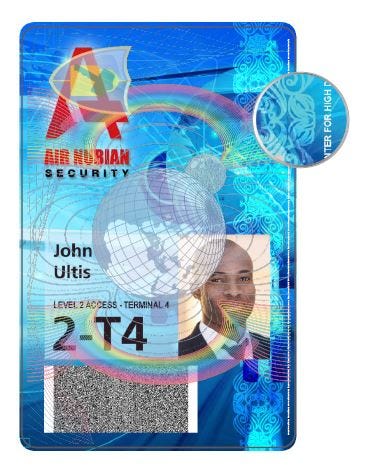 High resolution elements

Micro-text: text printed in high definition invisible to the naked eye

Guilloches (highly intricate, precise patterns): extremely difficult to reproduce for counterfeit use

Advanced 2D codes

The amount of information contained in the 2D codes depends on the print resolution. The encrypted information can easily be read with the appropriate equipment, such as a mobile phone

UV elements

Print photos, logos or text in ultraviolet ink that is completely invisible to the naked eye in normal light, but visible under UV light.
5. Lamination
Lamination amps-up card durability, subsequently extending the lifetime of an ID card by several years. Card security is heightened, too, since the film protects your cards from counterfeiting attempts.
For an even higher level of security, lamination films come in generic or personalized holograms. A hologram is an optical feature that creates an image with various colors and evolving motifs, even giving a 3D raised appearance. Badge cards using holograms are extremely difficult to replicate. By integrating your logo and additional elements, customized holograms can increase security even further.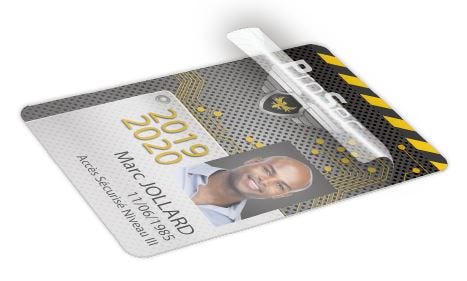 Security Features Ranked
Clearly, there are multiple elements that can be added to a good ID card design, but how do they rank by level of security offered? Look at this visual graph ranking card security features.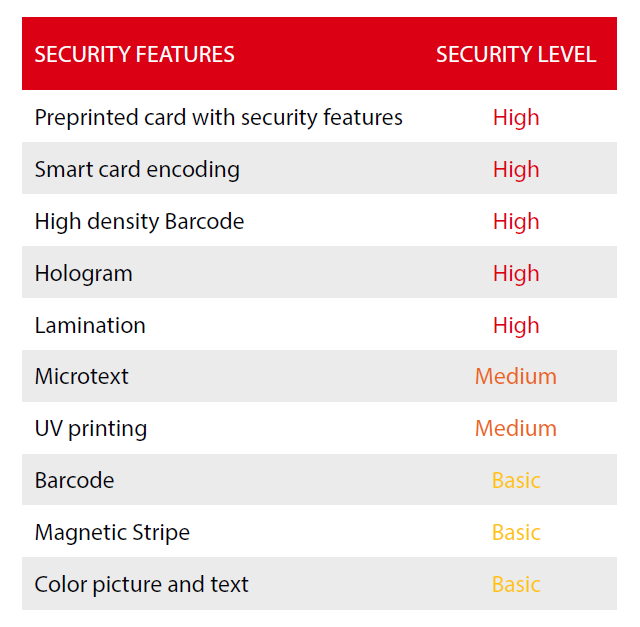 Now that we've identified the various card-based security options, you'll need an ID card printer capable of producing multi-feature badge cards. Evolis personalization and card issuing solutions offer unmatched scalability to meet current needs and minimize significant future investments. Evolis printers offer flexible upgrades, like going from single-sided to dual-sided printing, or adding on encoding and lamination modules. Modular upgrades let your Evolis printer evolve with your needs without expensive replacements. So trusted as a favorite choice, Evolis printers produce more than 2 million personalized cards world-wide each day! See a comparison of the three most popular Evolis printer models: the ZeniusID, PrimacyID and Avansia.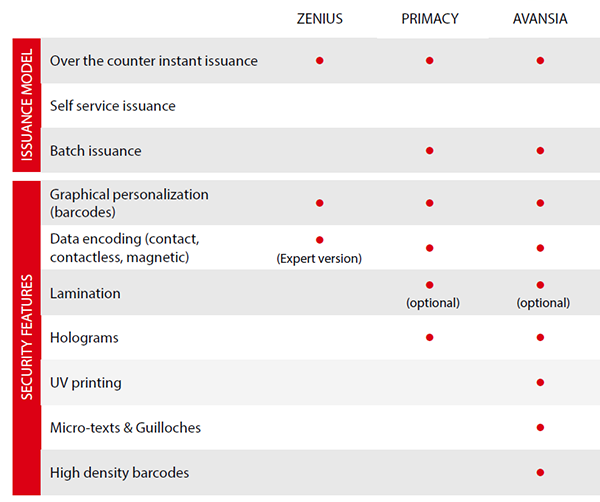 In addition, Evolis Signature Pads secure and optimize your enrollment processes through signature authentication. Digitally capture handwritten signatures are used to sign and validate documents, reducing the amount of paper used.
Need more help?
Connect with an ID professional at ID Wholesaler to ask questions and get answers about your organization's unique card-based security needs. Call us at (800) 321-4405, x2.