Healthcare facilities such as hospitals, urgent care units, doctor's offices, clinics, labs, and other health-related centers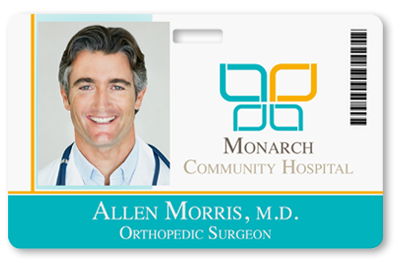 typically require their staff to wear identification badges. This gives those receiving care the ability to readily identify the staff's roles within the healthcare organization. In recent years, many facilities – especially hospitals – have begun to integrate their ID badges with access control applications. This allows medical workers and staff to gain entry for the area or building they are working in during their shift while also providing an added layer of security for facilities. Only individuals who have permission to enter or exit the area are granted access on their ID card.
The enhanced security can be added to a badge program several different ways: Visual ID badge security In addition to proximity card security, hospitals often also choose to add visual security to their credentials. Making additions to your ID card security can be accomplished in a variety of ways. Two new ID card printers use patented printer technology to achieve this.
The first is the Magicard 300 ID Card Printer. This direct-to-card printer is capable of adding custom imagery that can be transformed into a holographic image that adheres to the surface of the card. Hospitals choose this option because it gives added security to the card, and it also allows for hospital systems to gain brand awareness or brand recognition. You'll find this popular scenario with hospital systems that have a variety of satellite locations.
The second is the Datacard Sigma Card Printer. This direct-to-card printer's patent takes your custom artwork and physically embeds the image onto the card's surface. The result is a tactile impression of that artwork that you can physically see and feel! The new tactile impression technology is a forward-thinking way to ensure that ID cards cannot be randomly duplicated. Hospitals have found exceptional success in using this option with entry point systems that have security and staff who work in sensitive areas such as emergency departments, behavioral health departments, and intensive care units. Quickly touching a card can make high traffic areas less cumbersome for staff.
Technical ID badge security When it comes to technological security, hospitals have been thriving with added entrance access by using proximity cards. The most common proximity card format that hospitals tend to use is referred to as "H10304." These types of prox cards require a proprietary facility code. The facility code is typically reserved for organizations – like hospital – systems, or integrators that work specifically with hospitals or other high-security facilities. No matter what security needs your hospital may have, you can always rely on the expertise of our ID Professionals. They'll work directly with you to find a solution that meets your requirements, your budget, and your bottom line.  Call today at (800) 321-4405.