What's Included
Software is shipped in a boxed CD
Download Free Trial
Call an IDW Representative today for a FREE Trial Download
(800)321-4405
(Work done in the Trial Version is retained for use in the Full Version when purchased.)
EPI Suite Classic allows you to design, populate, and print your personalized ID cards within an easy-to-learn, feature-packed software solution. EPI Suite Classic is designed for medium-sized organizations (e.g., schools, hospitals, corporations, etc.) seeking a standalone software solution with minimal training effort.
Quickly design professional ID cards. EPI Suite Classic ID card software provides you the ability to create your own custom card design or choose from 10 pre-configured templates to personalize full color, dual-sided ID cards. EPI Suite Classic allows you to import eye-catching graphics to use as card backgrounds and personalize your designs with your organization's logo.
Capturing photos couldn't be easier or more consistent with ImageWare's face finding technology. EPI Suite Classic automatically locates the face, then centers, crops, and enhances the quality of the image. Photos aren't the only images you can add to your cards. Consider adding your cardholder's signature or fingerprint to add a level of personalization and security to your application.
All in all, EPI Suite Classic allows you to add and modify the design elements on your card just the way you want them, and create hard-to-replicate features such as image transparency and fading. In addition, EPI Suite Classic's WYSIWYG (what-you-see-is-what-you-get) interface presents you with an accurate depiction of your results every time, so that you don't waste your time or materials on printing test cards.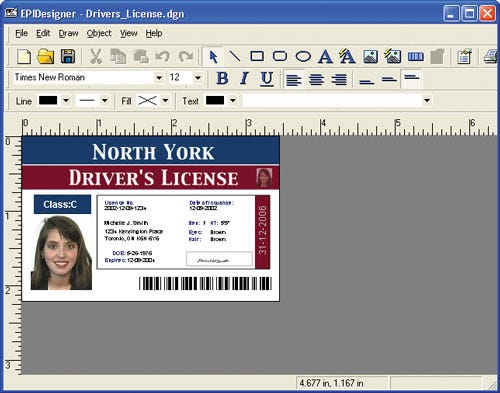 Data management in a snap. EPI Suite Classic allows you to create your records with a single click. Your EPI Suite Classic ID card software is configured with an internal Microsoft Access database, and is able to import data from your external ODBC sources.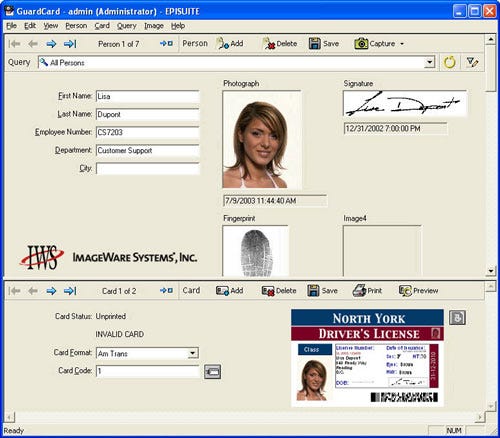 EPI Suite Classic streamlines the card production and management processes through batch operations, including the ability to re-issue cards, update personnel or card information, and print or add a group of cards at once.
Additional EPI Suite Classic database management tools include enabling users to assign multiple cards to one person without having to re-key person data, conducting queries/searches, sorting information based on user-definable parameters, and searching for and reprinting cards on-the-fly.
Plus, EPI Suite Classic allows you to securely manage your data with its password protection feature.
Produce the reporting that you need. Do you need to know what happened to a badge, or review information in your database? EPI Suite Classic ID card software generates an array of reports that provide you with the information that you need - at the click of a button.
Create feature-rich cards with encoding elements. With EPI Suite Classic, you are able to create professional-looking cards with added features such as a magnetic stripe, smart chip, and/or barcode.
Note: EPI Suite 11-03-01 has replaced EPI Suite part number 11-04-101-09.
Card Management
Import images
Integrated photo capture
Add unlimited data fields
Database
Microsoft Access, CSV, MS SQL, MySQL, and ODBC/OLE
Internal database with unlimited records
Encoding
1-D (linear) barcodes
Magnetic stripe
Options
Upgrade to EPI Suite Pro
Software Training - customized training makes getting up and running quick and easy
Printing Capability
Full-color one-sided or two-sided (duplex) capabilities
Batch printing
System Requirements

Windows 7 (32 and 64-bit)
Windows 8 (64 bit)
Windows 10 (64-bit)
EPI Suite 11-03-01 Classic Software