ID Cameras, Backdrops & Tripods
We stock digital ID cameras, webcams, tripods, and backdrops for capturing professional ID photos on site. Our TWAIN-compliant cameras make it easy to add ID photos to credentials, while our tripods offer consistent framing and focus. Our backdrops establish a uniform look or choose several backdrops of varying colors to signify different departments, units, grades, or groups within your organization.
Shop ID Camera Accessories by Category
CLOUDBADGING
✓ Affordable, cloud-based
✓ No installation required
✓ FREE technical support
Shop Best Selling ID Camera Accessories
Expert Tips & Advice
How to Choose the "Best" Photo ID Camera
The majority of organizations we work with at ID Wholesaler choose to feature a photo on their ID cards. Along with taking your time to research and evaluate the right ID card printer for your needs, don't forget the ID camera! When choosing the best photo ID camera to use with your card printing system, we have a few tips to make it easier.
Image Quality
Which type of ID card printer do you have? High-definition printers like the Fargo HDP5000 or the Evolis Avansia can print a better image than what a standard web camera can take. VALCam cameras offer superior image quality.
If you chose your printer because you wanted the highest image quality for your ID cards, make sure you're getting the best output.
Mobility
When selecting a camera, you have to determine whether you'll be taking ID photos at a permanent location or if you need to go to multiple locations to take the pictures. If you are using a web cameras, it needs to be connected to a computer; this can be a major limitation if people cannot come to you.
If you need to be mobile, the Canon Rebel T6 is your best choice. This high-quality camera is ideal for beginners or those new to digital SLR photography who want to capture crisp, professional-looking pictures.
Lighting
If your lighting source is less than optimal, you may need a camera with a flash like the Credential Cam Pro. This camera is compact, offers high-resolution images, and has a synchronized USB-powered LED flash.
Without a flash, you can create major shadowing and drastically lower the definition (and ultimately the quality) of the image.
Accessories
Don't forget about a photo backdrop and tripod to create a consistent and formal look in all of your photo IDs. A backdrop creates depth of field which lends to professional-looking employee photos.
+ Read more
How to Take Great Photos for ID Badges
For many companies, the primary purpose of an ID badge is identification; a clear, easy-to-verify photo on your ID badges is key to your company's security. It's important to make sure that the quality of your ID badge photo is the very best it can be. When designing and planning your ID badge program, keep the following tips in mind to ensure that your cardholders' photos will be easy to authenticate.
Camera Quality
Today's ID card printers are capable of printing crisp, high-quality images. Take advantage of this technology by using an equally high-quality camera to take your ID photos. Webcams may be inexpensive and conveniently sized, but they typically do not have a high image quality.
Photo Backdrop
Consider the color and style of the background of your photos. White backdrops help the image pop and keep the overall look of the card clean. Colored backdrops may be a way for you to visually classify groups of people, by department or security access for example.
Lighting
Set up the camera in a private area with good lighting, preferably natural sunlight. If possible, avoid fluorescent lighting as it can wash people out and result in photos with a bluish tint.
Photo Size
Larger photos typically print in higher quality and are easier to verify. When designing your ID badges, play with both a horizontal and vertical format to see if one orientation allows you to use a larger image along with the other information that will be placed on the card.
Why are Photo Backdrops Important?
An important (and often forgotten) element of an ID badge photo is the background. A photo backdrop system is a quick way to set up a make-shift "photo studio" and ensure consistent and professional-looking ID photos.
We've all seen it: the student standing in the office waiting for a photo to be taken for his school ID…or the employee standing in front a non-descript wall knowing the glare from the flash on the wall will stand out more than the photo itself.
So how can you overcome this all-too-familiar scenario? How can you make a 1-inch or 2-inch square photo more interesting and more reflective of what the person actually looks like in real life? How can you give ID photos a softer, cleaner look with dimension?
A properly chosen photo ID backdrop will provide the answer to these questions. Photo backdrops come in a variety of materials, sizes, and colors which provides the options you need to create your desired outcome. Backdrops are also available in a variety of styles including:
wall-mounted
free-standing (stand-alone)
pull-down
For example, check our Photo ID Backdrop System; it includes a full-size backdrop and an adjustable stand for varying heights. Available in a variety of popular colors, it's made of wrinkle-resistant nylon microsuede material for adding a smooth, professional look to photos. It easily attaches to the included stand with velcro to ensure a tight fit. The metal stand adjusts from 28" to 78" high to accommodate sitting or standing poses.
Nearly every week, one of my customers tells me they want to make a better-looking photo ID card. This process most often begins with a card design update and a much-improved photo. A photo backdrop is at the heart of the solution.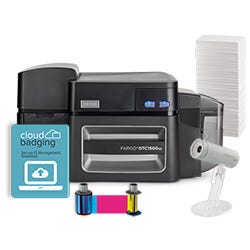 ID Printer System with Camera
Nearly all of our ID card printer systems include a photo ID camera for taking professional-quality images to use on your credentials.