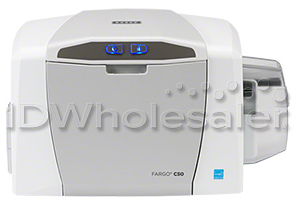 The Fargo C50 ID card printer is an affordable, easy-to-use machine designed for businesses with low-volume, single-sided card printing needs.
Fargo C50 Key Features
Easy-to-use and compact: The C50 offers an intuitive design with a small footprint that allows it to easily fit in the smallest office setting.
Direct-to-card printing with built-in erase and rewrite: Achieve great print quality! The C50 produces cards using dye-sublimation printing for vivid images and thermal transfer for sharp black text and barcodes. Plus you can create cost-effective visitor IDs and other short-term cards that can be reused with the erase and rewrite feature.
Print ribbon options: Choose either the EZ all-in-one print ribbon and cleaning cartridge which offers a convenient and simplified loading process making maintenance a breeze, or the ECO environmentally-friendly ribbons, which are not only better for the environment, but also budget friendly.
Add warranties or training: For added peace of mind, add an extended warranty and/or loaner plan to your printer. Plus, add training to your order to quickly learn the ins and outs of ID card design, printing, and more!