Over the last couple of years, we've seen a lot of schools moving to cloud-based applications for any number of programs, and the badging software a school uses doesn't need to be any different. But what's the best ID software for schools? At ID Wholesaler, we recommend CloudBadging Badge ID Software. It's an ideal solution to evolve your school's ID badging
program to the next level. CloudBadging offers a very secure, powerful and easy to use badging software.
It also offers full technical support and the ability to add multiple users – all rolled directly into the cost of the subscription and under a single license.
So simple to use! Is your current school badging program overly complicated? Is it hard to get support if something goes wrong? Not with CloudBadging. CloudBadging is a fully-featured card design/print application that is very easy to use.
Since CloudBadging is web-based, all you need to do is open your web browser, and you're ready to go! No need to wait for IT people to install software. For the initial setup, you simply need to input your password, configure your printer, and start designing your card in minutes. If you need help importing or configuring your database all the support is included to help make your move to CloudBadging as smooth as possible, and support can easily be accessed right through the application.
Your data is always safe & secure You'll have total peace of mind when you use CloudBading Software for your school ID cards, because it keeps your data fully secure in the cloud. It uses cutting-edge cloud technology that's constantly updated and backed up every five minutes.
Your data is stored in a location that's unique to your account and can only be accessed by you and your users with the proper token. Data sent between your computer and CloudBadging is completely encrypted and will never be lost, guaranteed. Your data is protected from any number of issues such as a corrupted database in your badging software or a computer crash.
Easy, full-featured tools CloudBadging provides all the tools you need to easily create professional-looking ID badges for your students, staff, and faculty, including:
Real-time badge previews
Template drafting
Front-to-back cloning
Logic-based field population
Snap-to-grid
And more!
Multiple users with a single license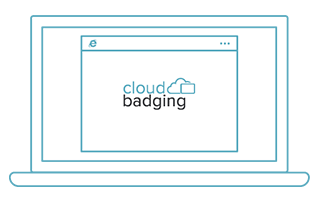 We've seen many schools that have several people who use one ID card printer. But it can be inconvenient if your ID badge software is tied to just one computer. Sure, you can always put traditional badging software on multiple computers, but that requires you to purchase a site license for each computer which can get expensive.
CloudBadging offers unlimited users, unlimited locations, and unlimited support - all at no additional cost – so it's perfect for multiple users at one school or many users across an entire school district.
For added convenience, you can create different user groups, give certain permissions, and define capabilities for groups and individuals. Also, if you ever need to add someone new to your CloudBadging program, you don't have to worry about training them, because we can do the training for you. It's included as part of your CloudBadging support.
To find out whether CloudBadging is the best ID software for your school, try it free for three full months. There's no up-front or credit card payment required and no obligation when the three months is up. Call an ID Professional today at (800) 321-4405 for more information!