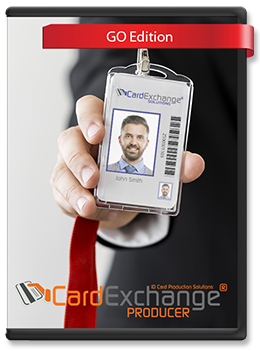 If you're trying to decide which ID software you need to take your card issuance program to the next level, consider a trial download of CardExchange Producer ID Card Software. In a free 30-day trial, you'll have access to the full suite of CardExchange Producer capabilities.
CardExchange Solutions ID Card Software helps you create professional-looking credentials in only four clicks. It offers an intuitive, user-friendly interface with easy drag-and-drop mapping for efficient and simplified card design.
CardExchange software is available in three editions, and each provides increasingly powerful tools:
Go - This entry-level software offers an improved engine for faster software startup, user interface updates, a 200-record internal database, and improved functionality.
Professional - As a mid-level software, you'll get unlimited database records, advanced filter technology, and signature capture capability.
Business - Designed for enterprise businesses and organizations who only need one license to run their ID card program. This fully-featured edition provides document scanning functionality, external plugin and biometric device support, advanced photo options, group and user management, and contactless power on demand.
Best of all, if your card program requirements change over time or if additional functionality is needed, CardExchange Software upgrades are quick and convenient.

Try all the features and functionality of CardExchange software with your free trial. Design cards, build a database, add fields, and much more — all of your work carries over when you purchase a full license! Note: a watermark will be printed on all cards printed with your trial software.