Engineered for ID Wholesaler, the Datacard CD810 ID card printer offers high-volume card output and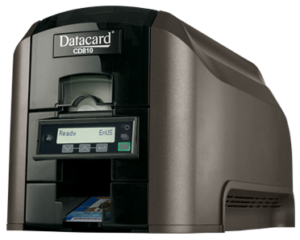 professional-grade ID card quality at speeds that surpass any other dye sublimation printer on the market today. It's the perfect efficiency equation of increased print speed, high throughput, and trusted dependability.
Now you can print exceptional-looking credentials with this extensive list of printer features:
Superior image quality with variable print options
Print complex, sophisticated logos and branding elements, barcodes, intricate two-byte character sets, and even realistic skin tones with the Datacard CD810 ID card printer. With their exclusive TrueMatch™ technology, your cards are produced with outstanding quality in record time. Choose between high-resolution 300 x 1200 dpi printing or best-in-class speeds that can create up to 165 full-color, dual-sided ID cards or 1,000 monochrome cards an hour. Datacard's exclusive
Free extensive warranty and loaner coverage
A true leader in direct-to-card printing, the money-saving CD810 card printer includes a 3-year manufacturer warranty on the printer and printhead. Combine this unprecedented coverage with three full years of free printer loaner coverage for unparalleled reliability.
Free 6-month CloudBadging Software subscription
CloudBadging goes beyond traditional ID badge management software by providing a secure, cloud-based workspace for individuals or teams to create, manage, and print ID badges – maximizing productivity and performance.
Eco-conscious & budget-friendly supplies
The CD810 system-specific supplies are made with Datacard EcoPure®, an eco-friendly additive. Coupled with to custom-created biodegradable cores, the special design unlocks unique features only available on this limited-edition printer model. This reduces overall production costs from 10% - 25% annually.
Forward-thinking design & network friendly
This compact, agile card printing solution features standard USB and Ethernet connectivity. The progressive framework allows you to evolve your printer unit with optional upgrades including magnetic optional magnetic stripe encoding or contact/contactless smart card encoding as well as inline lamination on the dual-sided model.
Simplified & streamlined operation
Quick to set up and start using right away, the Datacard CD810 printer has a soft-touch LCD panel on the front with easy and intuitive prompts. It offers industry-exclusive TruePick® card handling to help prevent card jams with no special adjustments required.
For more information on the Datacard CD810 direct-to-card ID card printer, call an ID Professional at (800) 321-4405. We're always happy to help!