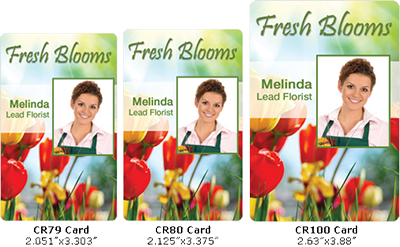 When designing an ID card or purchasing badge accessories, it's important to know the size of an ID card. There are three primary ID card sizes available:
ID Card Dimensions in Inches
CR80: The standard, most popular ID card size is 3.375" x 2.125". The CR80 card is also the same size as a credit card.
CR79: Slightly smaller than a standard size card, the CR79 card is 3.303" x 2.051". CR79 cards typically have an adhesive back and are commonly used for printing and adhering to a clamshell proximity card. Not all card printers are capable of printing on a CR79 card.
CR100: The CR100 card is 42% larger than a standard card, measuring 3.88″ x 2.63". Often called "oversize" or "military-size" cards, CR100 cards are designed to be easy to see from a distance. Very few card printers are capable of printing on a CR100 card.
Learn more about standard ID card sizes >>
Helpful Tip
When designing an ID card, you may or may not be able to print to the very edge of the card. Direct-to-card ID card printers leave a small unprinted border around the perimeter of the card. If you are using a retransfer printer, however, you can print over the edge of the card with no issues.
If you need assistance selecting a specific card size, choosing blank plastic cards, or determining printer compatibility, contact an ID Professional today at (800) 321-4405!