This a question many customers have asked the ID Professionals at ID Wholesaler. Before designing your ID badges, it's important to make a list of the information that will be featured on each card. The design of the card should revolve around this data you wish to place on it. It may be obvious to put the employee photo and name on an ID badge, but what other information should you consider?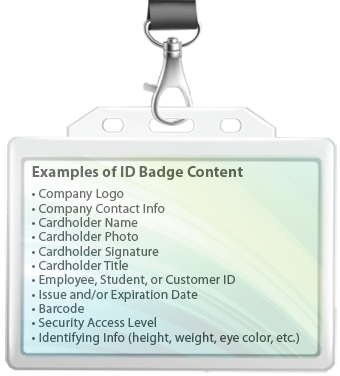 ID Badge Content Ideas
Here is a list of ideas to get you thinking about what information could be on the front or back of your ID badges:
Company logo
Company contact information
Cardholder name
Cardholder photo
Cardholder signature
Cardholder title (e.g., business analyst, student, sales director)
Employee, student, or customer ID number
Issue and/or expiration date
Barcode
HoloMark seal (or other visual identification marker)
Security access level
Identifying info (such as height, weight, eye color, and sex)
How to return a lost card
How to replace a lost card
Disclaimer and property information
Cardholder responsibilities
One thing to remember when you're thinking about which pieces of data you're adding to your ID badge: more data isn't always better. A card with too much information looks cluttered and is not easy to authenticate. The best rule of thumb is to avoid putting "extra" information on the card just to fill space. I recommend that you also consider security issues. Should a card become lost or stolen, make sure that there isn't any information on the card that could jeopardize your company's security. For more great tips, ideas and things to consider when designing (or redesigning) your company ID badges, download our
free
"Six ID Badge Design Tips" Guide today!
For additional details on the information you may want to include on your ID badges, contact an ID Professional today at (800) 321-4405 x2 or chat now. We're here to help!