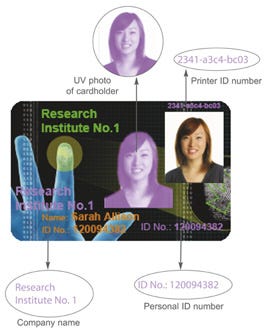 How important is security to your organization? Like most companies, security is a vital part of "business as usual" functions. Incorporating visual card security into your photo ID card program will make the card increasingly difficult for criminals to reproduce and use for fraudulent or counterfeiting purposes. How to Increase ID Card Security with UV Images One cost-efficient way to improve ID card security is to add Ultraviolet or UV images. For less than 10 cents per card, you can convert photos, images, or text to UV images (see an example to the right). To add customized UV images, you need a printer model that uses a compatible full-color ribbon with the UV panel in its printing workflow. The UV panel is typically represented by the letters "UV" or "F" for fluorescent.
Fargo
84514 – YMCFK ribbon for the HDP5000 and HDP5600 printer models
84814 – YMCFK ribbon for the HDP8500 printer
45209 – YMCFKO ribbon for the DTC4500 and DTC4500e printers
Nisca
NGYMCFK-PRC201 – YMCFK ribbon PR-C201 printer
EDIsecure
DIC10313 YMCK-UV – YMCK-UV ribbon for the following ID card printers:
XID 8300
XID 9300
XID 9330
Zebra
800077-770 – YMCUvK ribbon for the ZXP Series 7 printer
As an alternative, cards can also be pre-printed with the desired UV image. On credit cards, UV images are fairly common. If you look at your Visa or AmEx card under a UV light, you will likely see a covert image. Cost-efficient UV lights are also available for image verification.
To learn more about visual security options, contact an ID Professional at (800) 321-4405 today. We're here to help with finding the right solution to increase your ID card security with UV images and more.