Many of my customers who've ordered customized lanyards for the first time have had questions about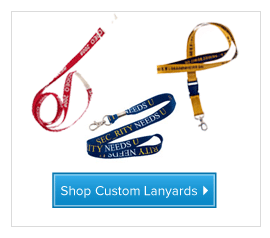 the best way to go about getting the right size lanyard width for their custom order. I have a few straightforward tips that will help you get started! If you're looking to customize a lanyard with your artwork and text, I would recommend the old adage of "the bigger, the better." The standard size of a lanyard is 3/8" wide, but most people select 5/8" or wider.
In addition, we offer 3/4" and 1" which makes it even easier to see in a crowd at an event, at work, at a conference, or anywhere you wear an ID badge, event pass, name tag, or other credentials. After all, it's about giving your organization's message or your company's logo better visibility. Plus, the wider your lanyard is, the easier it will be to see a logo, a mission
statement, a website address, or a phone number. With custom lanyards, you can choose either one-sided or two-sided printing. You can also choose the lanyard's fabric and the attachment options for connecting your ID card or badge with your brand new custom lanyard.

Another suggestion when submitting your artwork is to use a vector file. A vector file can be scaled to any size without losing the quality or the definition of your image. This helps give your artwork a more crisp, detailed, and professional look regardless of what width of lanyard you select. We also carry a variety of lanyards that are capable of perfectly matching up with your brand's color.
So make your lanyards as unique as your organization by customizing them! If you have additional questions about lanyard customization and the options we offer, call an ID Professional today at (800) 321-4405 or chat now. We're here to help!