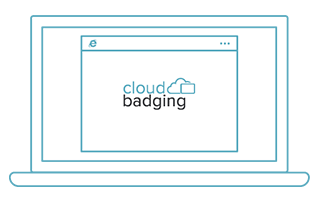 One of the benefits of CloudBadging ID Software - our proprietary ID card design software - are the automatic software updates. Each time you log into CloudBadging, you'll always be using the most current release with the latest enhancements. You'll never have to hassle with time-consuming, costly updates again. Ever!
Even more good news! We recently added several exciting updates to CloudBadging Software:
Stronger security
Two-factor authentication

It makes CloudBadging even more secure! It's especially valuable when you have multiple users at different locations.
Exciting new design tools
Color matching tool

Stay on brand when designing your IDs: make sure the entire badge is a cogent representation of your brand strategy. Use this tool to ensure different elements (e.g., text, ID number, shapes) are all the same color.

Copy & paste

Speeds up card design creation time with a convenient copy and paste function.

Ability to lock elements

Lock elements into place so while you continue to edit your badge you don't accidentally move other elements.

Support for editing in layers

Makes editing easier with the ability to edit by individual layers.

Additional barcode formats

CloudBadging ID Software now offers an extended list of barcode formats, allowing you to use your ID cards with any barcode reader.

Formula functionality for dates

Choose from a detailed list of different date formats. Whatever suits your needs!

New align/justify functionality

Easily align your font and design elements to create a centered, professional-looking ID card.

New views (list view and zooming)

You can now view your templates in either a list view or in a grid view.
Get help finding templates either by image (Grid view) or by title (List view).

Get digital images of your credentials via email or text message.

Call your CloudBadging Customer Success Manager for details: (800) 996-3581.
And don't forget: a single CloudBadging ID Software subscription has unlimited users from any computer - regardless of your operating system. Add seat licenses to your CloudBadging account at no additional cost and with zero installation required.
Whether used by an individual or a team across multiple locations, a single CloudBadging license is all you'll ever need. With CloudBadging Software, there aren't additional licenses to buy or time-consuming software installations to manage. Add a new user to your master account simply by creating a login.
Since you can access the application from multiple computers using a single license, CloudBadging is the most affordable, easy-to-scale option on the market. Try it risk-free for with no preliminary costs or fees PLUS no credit card required. Start designing head-turning credentials in minutes!
Call a friendly, knowledgeable ID Professional at (800) 321-4405; we're here to help!