Have Questions about Badge Holders? We Have Answers!
Which Badge Holder is Best for Me?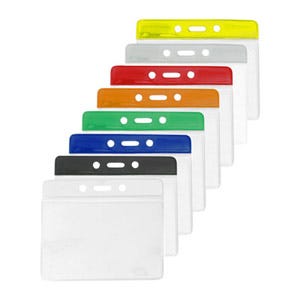 Badge holders are an affordable and practical method for protecting, wearing, and displaying ID cards. Available in a variety of material compositions and sizes, badge holders can be attached and worn in many different ways – some are made for use with a lanyard or badge reel, while others function as wallets or attach directly to your clothing by pin, magnet, or clip. Many offer special features, such as thumb holes or extractor slides for easy card retrieval, secure locking mechanisms to prevent tampering, UV protection, or built-in protection against "skimming" for ID cards encoded with sensitive information.
With so many types of badge holders to choose from, each designed to suit varying applications, it can be overwhelming to narrow your search. Find the perfect badge holder for your facility or event by reviewing the following badge holder categories, then take a look at the subsequent list of things to consider when choosing a badge holder.
Flexible holders are the most popular type of badge holder and offer the largest variety of sizes and colors to choose from.
Rigid holders are ideal for access control, proximity, and smart cards. They are made using various rigid plastics, poly, or vinyl materials to offer a higher level of card protection.
Prox card holders are designed to hold a proximity card or access control card and include a thumb notch or slide for easy card removal.
Wallet holders are often used to hold ID cards as well as pens and business cards, and are useful accessories at events and tradeshows. Many include a cord to wear around the neck.
Magnetic holders are clothing-friendly and allow the cardholder to magnetically adhere the holder to a belt or shirt pocket.
Color holders make it easy to classify your cardholder types by role or access level at your facility, and are available in both flexible and rigid styles.
Arm band holders are a safe option for industrial and factory workers, or highly active personnel in any line of work, and feature an elastic band for wearing an ID badge on the upper arm.
Name tag holders are a simple way to display name tags and are often used for visitor badges or temporary ID applications. Some include a pin or clip for attaching the holder to clothing.
Earth-friendly holders are ideal for organizations looking to go green! They are made from biodegradable materials that contain less environmentally-hazardous compositions than PVC.
What Should I Know Before I Order a Badge Holder?
Now that you are familiar with the general categories that badge holders fall into (see above), it's time to answer a few basic questions that will help you determine which badge holder is best for your specific application before you place your order.
What size are your ID cards?
Badge holders are available in many different sizes, so you'll want to make sure that your ID card (and anything else that will be placed inside the holder) will fit inside the holder you choose! In general, badge holders can be classified into four groups corresponding to four common card sizes:
ID card size: holds a standard ID card size insert (credit card size: 3.38'' x 2.13'')
Government or military size: larger than a standard ID card, with the same general proportions (~3.25'' x 2.31'')
Event size: larger and generally more square than standard ID card size, and commonly used for conventions and trade shows (ranging anywhere from 3'' x 4'' to 5'' x 8'')
Business card size: holds a standard business card (3.5" x 2")
Are your cards vertically or horizontally oriented?
Before you order badge holders, you need to know whether your badge design is horizontal or vertical. Some badge holders support either orientation, but the vast majority are designed to be worn in a specific way.
Will the cards be removed from the holders on a daily basis?
If you are ordering badge holders for cards that will be removed from their holders on a routine basis for inspection by security personnel or to be scanned by a card reader, you may want to consider holders with an easy card retrieval feature, such as a thumb notch or extractor slide.
Is worker safety and/or site security an issue?
If worker visibility is a concern, consider
reflective safety badge holders
, framed with orange reflective material and trimmed with photo-luminescent ink. If site sanitation is a primary concern, we offer
antimicrobial arm band badge holders
, which provide added safety for those in food service or health care.
If security is of the utmost importance, you may benefit from
color bar or color frame holders
, which can be used to visually signify access levels, or
shielded badge holders
, which have a special, protective layer that blocks electromagnetic energy and prevents unauthorized or unknown access to encoded card data.