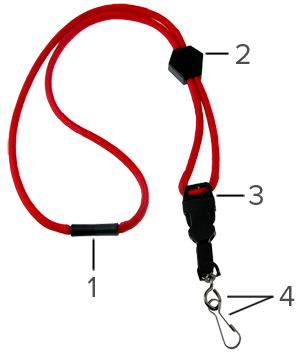 While the concept of a lanyard is simple, there are a variety of lanyard styles to accommodate many applications. But what are the basic components of any lanyard?
All lanyards feature a strap design that fits around your neck with an attachment to secure and display an ID card or badge.
Depending on the style of lanyard you decide to purchase, you may also have an opportunity to choose the following attachment options:
Breakaway – This is a type of lanyard closure that offers a built-in safety feature on the back. It automatically releases and separates from around the neck of the wearer if it's pulled or caught, preventing possible choking. It's also ideal when used in facilities where workers operate machinery, in medical facilities, schools, and more.
Cord Locks or Crimps – With a lanyard cord lock, you can adjust the lanyard for the perfect fit around the neck. Crimps are usually made from nickel-plated metal, crimps fasten the ends of the lanyard together to hold it in place.
Finishing Options – The available finishing options will ultimately depend on the style of lanyard you choose. Finishing options add functionality to your lanyard: ID cards, keys, and cell phones can be worn on the lanyard around the neck, or all of the attachments can be easily removed from the lanyard with a simple clip, like the style shown above.
Attachments – Attach your ID card – or even a set of keys, your cell phone, or water bottle – to your lanyard. The selection of attachment styles offered will depend on the lanyard style. Most attachments are clip-style and require ID cards to be slot punched. Gripper-style attachments allow you to use ID cards that have not been slot punched.

Our massive selection includes both standard and custom lanyard styles and designs, earth-friendly lanyards, and awareness lanyards.