ID credentials are an essential part of any business, regardless of the organization's size or type. They are used for a wide variety of reasons:
to identify and differentiate employees, temps, contractors, and visitors
to allow access to an entrance or specific area within a building
to provide authorization to use certain pieces of office equipment
to track employees' time and attendance
Before you launch your ID card program, you first need to determine which type of ID card will best fit your organization's requirements. Some requirements are basic, and some provide extra security parameters when needed, and others can store monetary value.
At ID Wholesaler, we can provide extensive options to accommodate your specific security and identification requirements. Let's look at a breakdown of the different kinds of cards available:
PVC Cards
These are the most commonly used type of ID card and feature a standard "credit card" size. Blank plastic PVC cards can be printed on using any card printer type and are very economical. Many organizations use this style of card primarily for employee photo identification.
Standard Proximity Cards
These are printable, credit-card sized cards and feature an antenna and electronic chip "sandwiched" between two thin plastic cards. Made of a metallic coil, the antenna allows the card to communicate with an external antenna.
Typically made of silicon, the chip is made of semi-conducting material and embedded with an integrated circuit. With these internal elements, prox cards programmed to your specific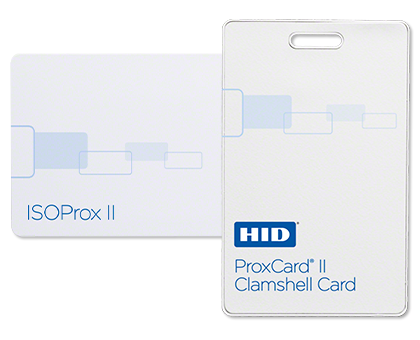 access systems and are used most often for providing door access.
They are easily scanned with an installed prox card reader and allow employees and/or visitors to enter your building. Schools, government organizations, and any standard business looking to heighten their security use these cards.
Note: We can also provide proximity key fobs, tags, and wristbands; these are all programmed in the same fashion as your proximity cards and used for door access.
Clamshell Proximity Cards
Clamshell proximity cards are larger and thicker than standard prox cards but can be programmed the same way. These are typically utilized alongside printable adhesive cards. This would allow for reuse, as the adhesive would be removed if different credentials would be printed on them. (Adhesives come in both mylar and paper material, and in 2 different sizes.) Businesses that provide credentials for temps or contractors would commonly use these cards for door access.
Composite PVC or Proximity Cards
PVC and proximity cards also come in a much more durable composite material. These would be used with high-temperature printers, and for those that will be exposed to more wear and tear in the field. Business applications that may require IDs to be outdoors or in an industrial setting most commonly use this type of card to avoid breakage.
Earth-friendly & BioPVc Cards
These types of cards are made of a 99% fully biodegradable plastic and are a great option for businesses looking for a rugged plastic card yet want to be friendlier to the environment. For versatility, these cards are available in the standard CR8030 size, high-coercivity magnetic stripe and low-coercivity magnetic stripe.
Magnetic Stripe Cards
For organizations with an access or entry system that requires cards to be "swiped" for clocking in and out, recognition of certain information, or employee identification, we also have cards with an embedded magnetic stripe. These are like the stripe you typically see on the back of a credit card and serve many different purposes. Universities often use them for dormitory and cafeteria facility access, and hotels use them for room keys. There are also two different kinds of magstripes available that different information storing capabilities:  high coercivity and low coercivity magstripe cards.
Holographic Cards
For security and recognition, another option is cards with holographic effects. There are many different styles of pre-made holographic foil cards available on our website, which can add a unique and secure element and make your credentials very difficult to duplicate.
Determining the right kind of card for your business needs can be overwhelming, and that's why we want you to be armed with the right information before you buy. We're dedicated to helping you achieve a successful credential program and saving you money in the process. Call a friendly and knowledgeable ID Professional today at (800) 321-4405 to discuss your needs and the card options we offer.