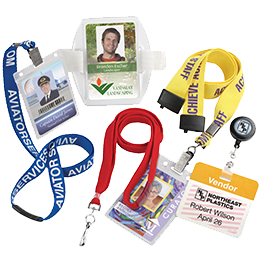 You have four main options when wearing your ID badge: a lanyard, badge holder, badge reel, or badge clip.
For those that want badges to be visible at all times, lanyards are a great option. Many choose to customize the lanyard with a logo or business name, which can also be given away as a promotional item. Another great feature for lanyards is the break-away safety option that works well in manufacturing environments.
Are your badges in harsh environments or do you need a way to hang your badges? How about a badge holder? Do you want to be able to distinguish visitor, contractors, or full-time employees? Colored badge holders are a great way to do it. Do you have more than one badge? Use a multi-card badge holder and hold all your cards in one holder.
Are you using controlled access cards and need to swipe your cards over a reader? Badge reels have an extending sting that allows the badge to be attached to your body but then stretch to access the card reader. Badge reels can also be customized to display your company logo.
Last, but not least, the simplest way to wear your cards is a badge clip. You can easily loop the strap through a punch on a card and clip the badge to a shirt pocket or collar.
No matter how you want to wear your ID badge, you can rely on the expertise of our ID Professional to guide you to the solution that best suits your organization's needs. Call us today at (800) 321-4405. We're here to help!